This section is dedicated to our pre-competitive lessons. Swimmers range from 6 to 12 years old. There are 10 x 60-minute lessons per term which provide progressive teaching leading to squad training and competitive swimming.
Aims and objectives
The emphasis of the lessons are the development and acquisition of skills to enhance the strokes already learnt in our programme; learning fundamental movement literacy. Instructors will teach "perfect practice" and stroke efficiency.
They will develop; agility, balance, co-ordination, speed, power and endurance.
Swimmers will enhance their streamlining and gliding whilst learning basic Swim England tumble and touch turns. Swimmers will also become proficient in poolside diving and jumps.
There will be an emphasis on fun learning and a gentle introduction to competition with termly fun gala's.
Swimmers will have the required ability and skill to progress along any of the clubs pathways; Academy, Competitive or Performance.
Age range
Boys 7 – 12 years and girls 6 – 12 years
Progression
The main emphasis will be on skill development and acquisition of skill so stroke technique will progress to Swim England legal standards. Proficient tumble and touch turns will develop with good poolside dives and streamlining. The progressive aim is for these skills to become automatic, i.e. the swimmer doesn't have to think or be told to perform correctly.
Swim Specific: Swim England legal technique over 25m Butterfly, 50m on Frontcrawl, Backstroke and Breaststroke, basic tumble and touch turns and poolside dives are required to progress into the squads.
Lesson duration
10 x 60-minute lessons per term.
Sessions are on Sunday's from 6 – 7pm.
Aquatic Skills Framework
The Learn to Swim Stages 8 - 10 Awards make up the Aquatic Skills Framework of the Learn to Swim Programme. Our programme continues with the 'swimming' stages but there may be other clubs in the local area that offer Diving, Artistic Swimming, Water Polo, Lifesaving or Deepsea activities at stage 8 and above.
Termly lesson overview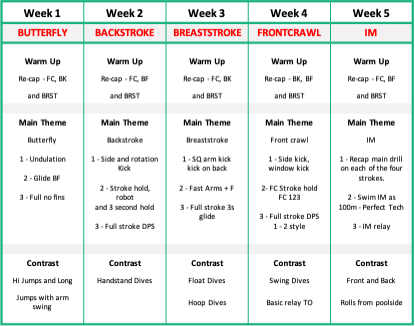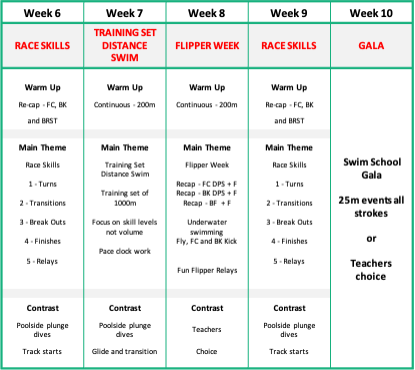 ---
Learn to Swim, Salisbury Stingrays Swim School, Salisbury Stingrays Learn to Swim, Stingrays Academy